D-day British & Canadian Sector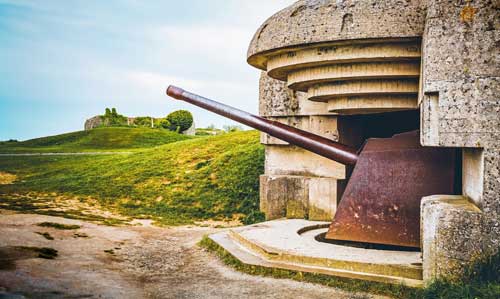 Half day British Beaches Tour
The Longues-sur-mer german battery is one of the most interesting. Overlooking "Gold Beach", the 4 guns, each 150 mm are pointing the sea, still intact in their casemates.
It is very famous because of the excellent movie "The longest Day" and Major Pluskat badly surprised by the 6000 ships he saw in his binoculars.
Ver-sur-Mer is a new memorial dedicated to the british soldiers who bravely fought for our freedom.
The allies needed a port in deep water for their supplies and men. The solution was an artificial harbour codenamed "Mulberry B" by Sir Winston Churchill.
The remains are still nowadays visible in the Channel in the cute town of Arromanches.

Morning: From  8.30am to 12.30 am
Afternoon: From  13.30pm to 17.30 pm
Price : From 350 euros

Longues sur mer german Battery
Ver-sur-mer Memorial
Gold Beach, Arromanches Mulberry Harbour
Bayeux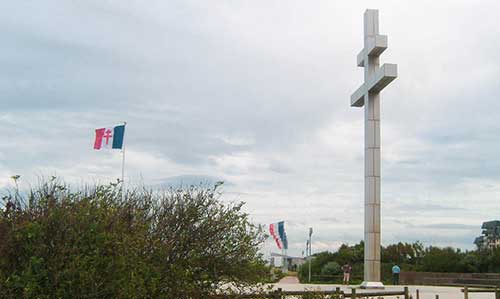 Full day British & Canadian Beaches Tour
During the operation codenamed "Overlord" les Allies decided to drop paratroopers and gliders on both flanks of the landing beaches . The objective of the british and canadian troops was to take the city of CAEN…
Price : From 550 euros
Abbeye d'Ardennes
Pegasus Bridge
Ranville cemetery
LUNCH IN OUISTREHAM
Sword beach
Juno beach, Saint Aubin-sur-mer
Reviers canadian cemetery
Gold beach, Arromanches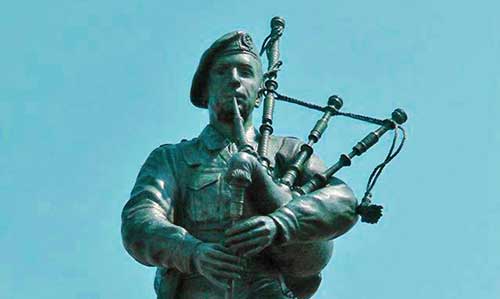 Full day British Beaches Tour
The objectives at Gold were to secure a beachhead, move west to capture Arromanches and establish contact with the american forces at Omaha, capture Bayeux and the small port at Port-en-Bessin, and to link up with the canadian forces at Juno to the east. Forces attacking Gold faced elements of the german 352nd infantry division and german 716th infantry division. About 2,000 men were stationed in the immediate area. Improvements to fortifications along the Normandy coast had been undertaken under the leadership of Generalfeldmarschall Erwin Rommel beginning in october 1943.
Price : From 550 euros
Pegasus Bridge
Pegasus Bridge Museum
Ranville cemetery
Lunch in Ouistreham
Sword beah
Hillman Strong Point
Gold beach Arromanches
Longues-sur-Mer german battery
Full day British & Canadian Beaches Tour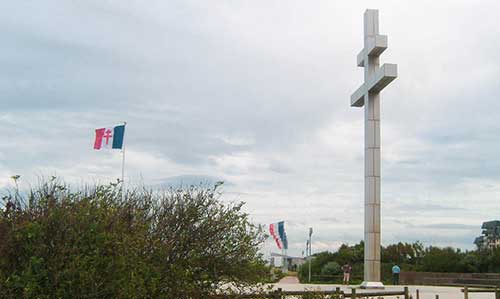 Abbeye d'Ardennes
Pegasus Bridge
Ranville cemetery
LUNCH IN OUISTREHAM
Sword beach
Juno beach, Saint-Aubin-sur mer
Reviers canadian cemetery
Gold beach, Arromanches
During the operation codenamed "Overlord" les Allies decided to drop paratroopers and gliders on both flanks of the landing beaches . The objective of the british and canadian troops was to take the city of CAEN.
The sector allowed to the british troops of Major Howard was "Pegasus Bridge" ( Benouville bridge at that Time) a key bridge on the Orne river.
Silently, just after midnight , in the mist, 3 gliders landed 50m from the Bridge.
Their task was "Take it and hold it until Releave". That's what they did.
The "Café Gondré" is still waiting for you for a nice drink beetween pictures of these heros.
At 7.30 am the soldiers of the 3rd ID landed on Sword beach destroying the german batteries in the area.
Facing rough sea , reefs and german defenses on Juno beach , the canadians suffered heavy casualties all day long.
The famous "Maison du Canada" is a nowadays a meeting point for the veterans.
2049 canadian soldiers are now resting in the canadian cemetery at Beny-sur-Mer.
We all thank them for their sacrifice.
Full day British Beaches Tour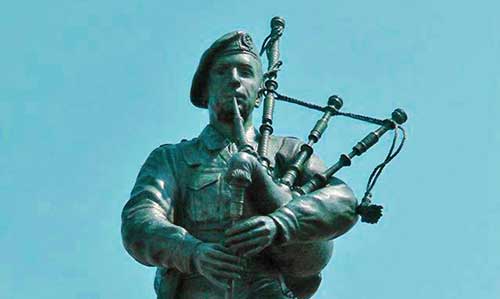 Pegasus Bridge
Pegasus Bridge Museum
Ranville Cemetery
Lunch in Ouistreham
Sword Beah
Hillman Strong Point
Gold Beach Arromanches
Longues sur mer German Battery
On 6 june 1944, during the Second World War, the bridge was, along with the nearby Ranville bridge over the Orne river (another road crossing, later renamed Horsa Bridge), the objective of members of D company, 2nd (airborne) battalion, Oxfordshire and Buckinghamshire light infantry, a glider-borne force who were part of the 6th airlanding brigade of the 6th airborne division during operation Tonga in the opening minutes of the allied invasion of Normandy. Under the command of Major John Howard, D company was to land close by the bridges in six airspeed horsa gliders and, in a coup-de-main operation, take both intact and hold them until relieved by the main british invasion forces. The successful capture of the bridges played an important role in limiting the effectiveness of a german counter-attack in the aftermath of the Normandy invasion.
Later in 1944, the Bénouville bridge was renamed Pegasus Bridge in honour of the operation. The name is derived from the shoulder emblem worn by the british parachute regiment which depicts bellerophon riding the flying horse Pegasus.